Reading Time:
6
minutes
Moving to an unknown city is a great adventure. It opens up new opportunities and perspectives but also poses a lot of challenges. Finding like-minded people with whom you can share your experience is one of the crucial factors that determine whether your journey becomes unforgettable or if you would rather forget it. 
At HAVENS LIVING you are part of a great community from day one. In our shared spaces you will quickly get to know other members and find new friends with ease. Additional services ensure that your stay goes smoothly and let you concentrate on what is important to you. Living at HAVENS LIVING allows you to fully enjoy this new chapter in life. 
Rooftop Terrace
Life is a climb: But the view is great
To see a city from above has always something magical. A great view helps you to let your mind wander and take a deep breath after a long day. Especially when the sun begins to set and the skyline shines in bright warm colors a rooftop terrace is the perfect place to relax and charge your batteries.
Is there anything better than spending the evening outside together with friends and having good conversations over a cold drink?  We don't think so. Feel free to join us in this special place and end your day enjoying this captivating atmosphere. 
Library
Today a reader, tomorrow a leader
Knowledge is power and reading is the source of it. For those who are always inquisitive, our library offers books on a wide variety of topics. But of course reading is not only helpful for further education. It is also calming and a way to escape daily routine. In the fast moving modern world it is necessary to slow down from time to time and enjoy moments of quietness. There is no better way to forget a stressful day than by immersing oneself in an exciting story. Our library provides books for every taste and cozy seating corners so you can spend a quiet evening or rainy sunday just on your own.
Cookery
Cooking with love provides food for the soul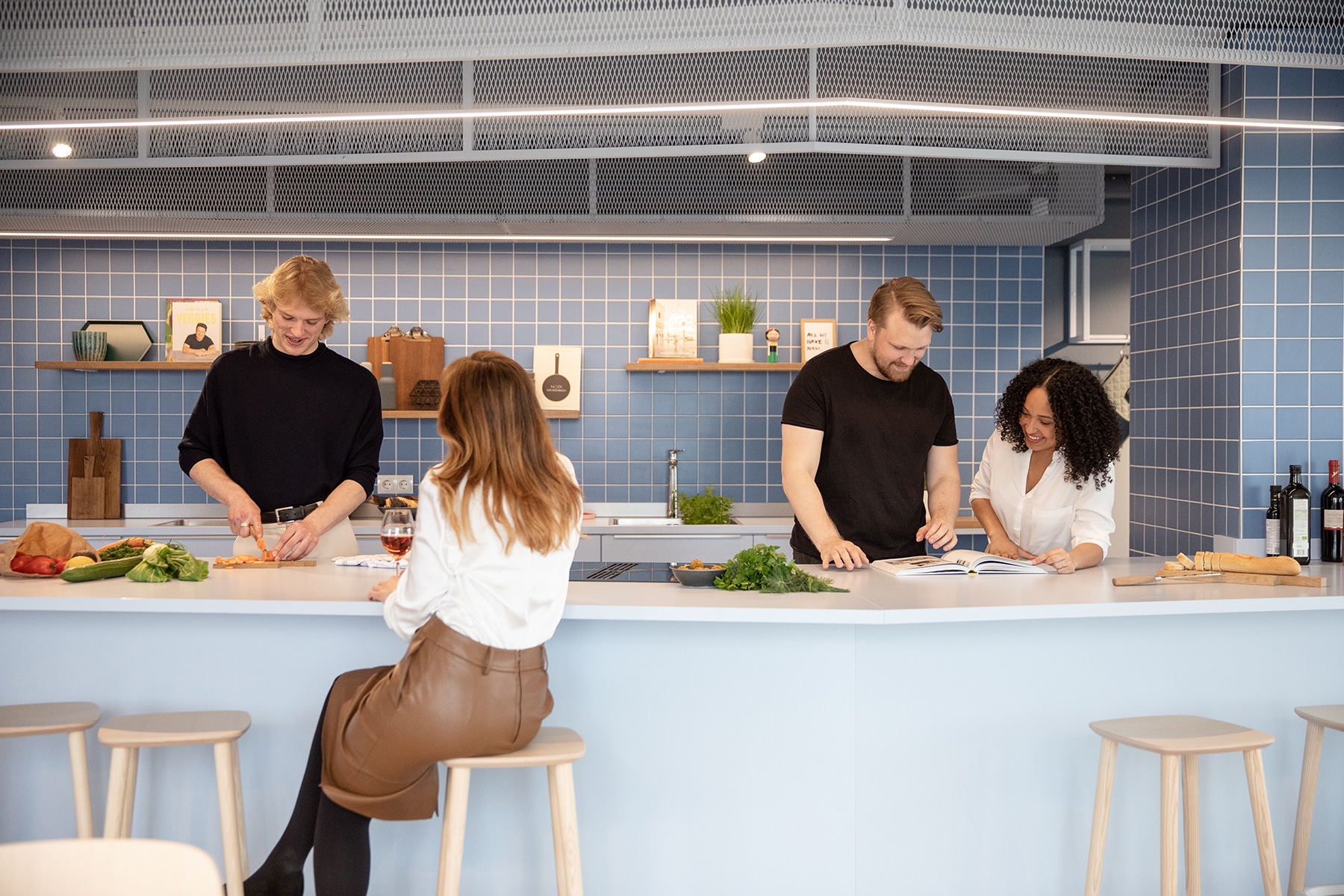 Always cooking on your own isn't a lot of fun and often very monotonous. Due to a lack of inspiration many people are eating the same dishes every day and don't put much time and effort into the daily food preparation. In the community kitchen you can meet other HAVENS LIVING members or invite your friends to have a nice dinner together.
Our cookery is equipped with everything you need and offers plenty of space. Enjoy the culinary diversity and get to know fresh flavors from other countries. Try out new products and share your tips in the kitchen to create your own recipes. In the end you can savour your dishes together. We all know, it just tastes better in company. 
Bar Lounge
According to chemistry, alcohol is a solution
Finding like-minded people in the city you live in with whom you can share new experiences and thoughts is an important factor for a happy life. Of course networking is also helpful in the professional context and can open up unknown opportunities.  It's commonly known that the best way to socialize is over a tasty drink. Our bar is the ideal spot for encounters and provides free beverages at any time. Just grab a fresh lemonade or a beer and get to know your neighbors und future friends in a relaxed surrounding. A lot of interesting people from around the world are waiting to meet you.
Co-working area
You will be successful, if you help others to succeed
When living together why not also work together? As remote working is on the rise and more and more young professionals work from home, we povide our members with an inviting place where they can get their tasks done. Together we can achieve more and co-working has many advantages. Being surrounded by like-minded people while working can have a great impact on the creativity
and is certainly more fun than being alone in your own apartment. Our bright co-working area is an ideal spot to exchange ideas with others and increase productivity. This makes collaboration easier and creates a pleasant work atmosphere which has a motivating effect. Expand your network and get inspired by the community.
Coffee Lounge
Coffee = Survival juice
A cup of coffee is always a good idea and fits every occassion. Wether you are waiting for a friend, want to spend your work break in company or have a meeting with a business partner, in our smartly designed Coffee Lounge you can savour hot beverages and relax. It is one of the shared spaces at HAVENS where you can get in touch with other members easily and start good conversations over a free drink. Located right next to the Lobby you can watch the happening and lean back for a while. Make yourself comfortable and rest.
In-house Gym
Sweat now, shine later
A good workout helps you to clear your mind and release tensions after a long day sitting at the desk. Everyone knows that doing sports supports body and soul, but the long way to the gym can be demotivating. 
Our in-house gym is included in your rent and just a stone's throw away from your apartment. Forget the stress and start sweating. 
Washing Lounge
Laundry – the real never ending story
Besides work, there is often little time left. Assuredly you don't want to waste this precious moments on housework. At HAVENS LIVING you don't have to choose between budgetary duties and free time activities. Just use our washing lounge to do your laundry while cooking dinner or having an after-work beer with your friends on the rooftop terrace.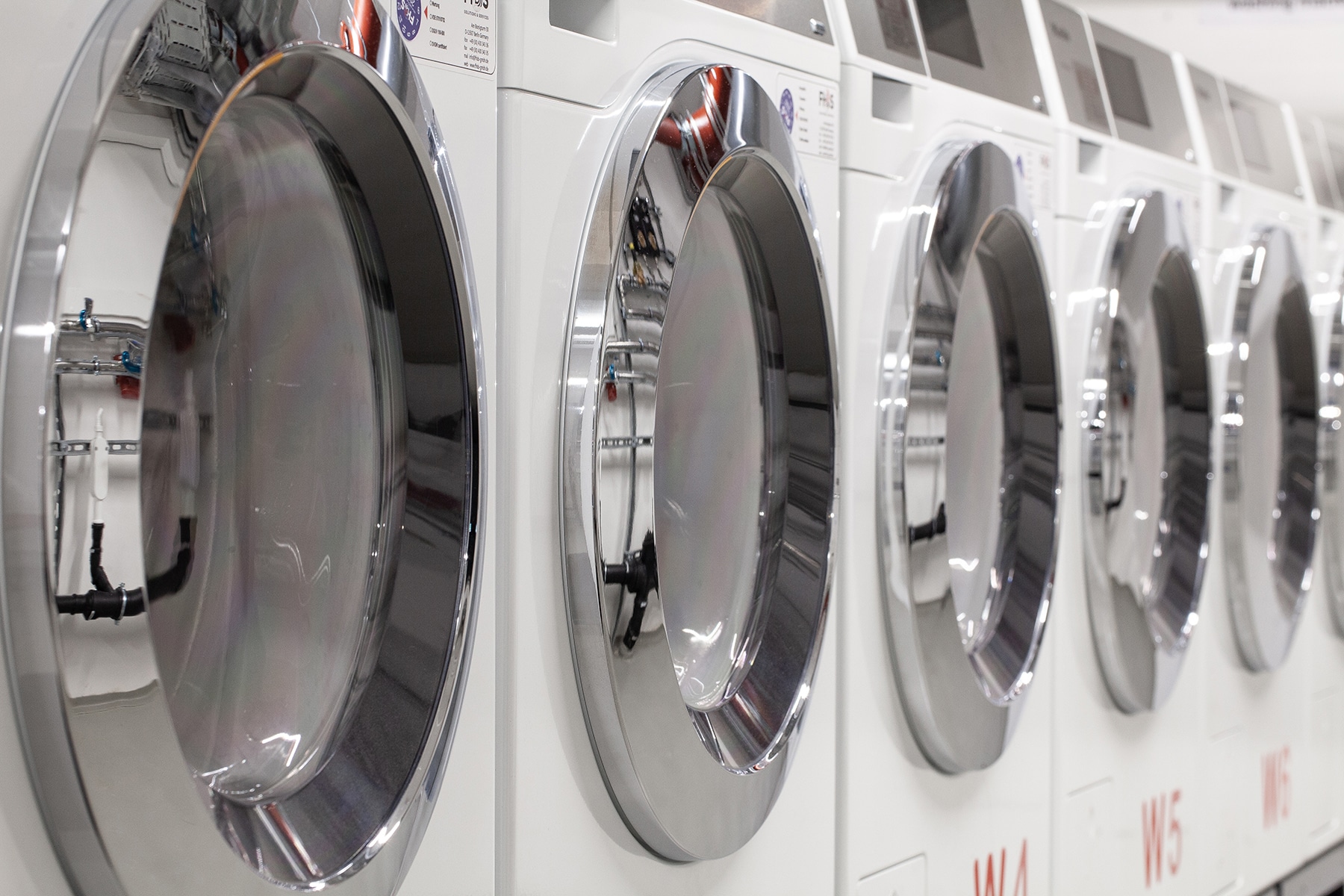 Supermarket and Drugstore
Time is money
Time is a rare commodity for working people. Grocerie shopping is one of the troublesome duties that cut off valuable free time. Long distances to the next retail options often make spontaneous purchases impossible. Besides nobody likes to carry heavy bags the long way home from the supermarket. 
Wouldn't it be great if you could do your necessary purchases in the same place that you live in? Comfort and convenience come first at HAVENS. Therefore we have a supermarket as well as a drugstore on site which are accessible through our underground car park.
Bike Parking
When in doubt, paddel it out
Public transportation is quite useful but you will miss a lot while sitting in the train. The best way to explore and to feel the vibe of a city is on two wheels. Hamburg is big but you can still reach everything by bike. To make sure that your bike is always stored safely and dry we have an underground bike garage on site.
Car Parking
Life is a journey, but you'll find a parking spot at the end
Having your own car has many advantages. For example the opportunity to explore Hamburgs surroundings very easily like the beautiful baltic coast or the picturesque small town Lüneburg. But finding a parking spot in a big city can be difficult and nerve-racking. That's why we have our own car parking on site which you can use for a fee.
Ready for your new home?
Join the HAVENS LIVING family
Become part of the HAVENS family and enjoy the numerous advantages of exclusive membership. Our great community and services ensure that you can feel at home from day one.
If you want to learn more about the benefits of living all-inclusive at HAVENS LIVING click here.